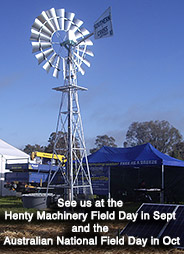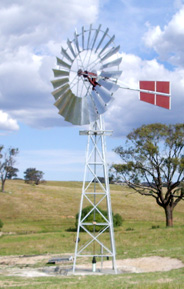 Windmill Water Pump for Sale in Australia
Windmill Engineering Co carries a range of water pump products to help your windmill run smoother and last longer. We only stock the top quality to ensure your investment saves you money in the long-term, and removes the need for too many repairs on a regular basis. With more than two decades of experience servicing and selling windmills, we are the go-to engineering specialists for your equipment located in New South Wales servicing Australia.
Our complete water pumping windmills and parts
You can trust us to find exactly the right pump system for sale to meet your needs. With the latest technology, the equipment can now last for a very long time, meaning you don't have to worry about repairing your windmill for years to come – it will prove a lasting addition to your Windmills long livery. We stock pumps from Alderdice brass and stainless steel windmill super pumps, made from the finest quality materials. There's a range of options available giving you the
best choice at the best prices
, including a range of flush caps, stainless steel syphon and draw plunger pumps and air chambers – you'll never struggle to find exactly what you need for sale.
How can we help you?
Contact us
to find out how we can help! We work throughout the whole of Australia, led by John White, to complete all your engineering needs to the top quality.