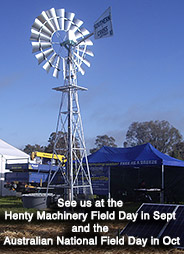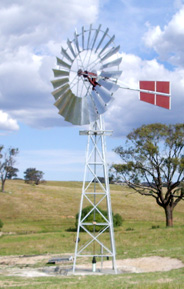 Don't just take our word for it! Read some of the glowing comments we have received from our customers:
Windmill Engineering Co. saved us money!
We used Windmill Engineering Co to repair and recondition 2 windmill heads. John was able to repair them with some innovative ideas that saved us the cost of new parts.
We also had Windmill Engineering Co erect the 2 repaired mills plus relocate another and found Clive to work in a fast and professional manner.
John was also able to supply us with all the components to complete the job.
Glen and Sharon Woods
I like the idea of using wind, such simple technology, beside I like the look of them.
W. Hodges, Greenethorpe NSW
Windmills are an efficient method of moving water.
G Warrick, Bowral NSW
Very Impressed with Windmill Engineering, they were Professional & helpful.
A Criechton-Brown, Tarcutta NSWW